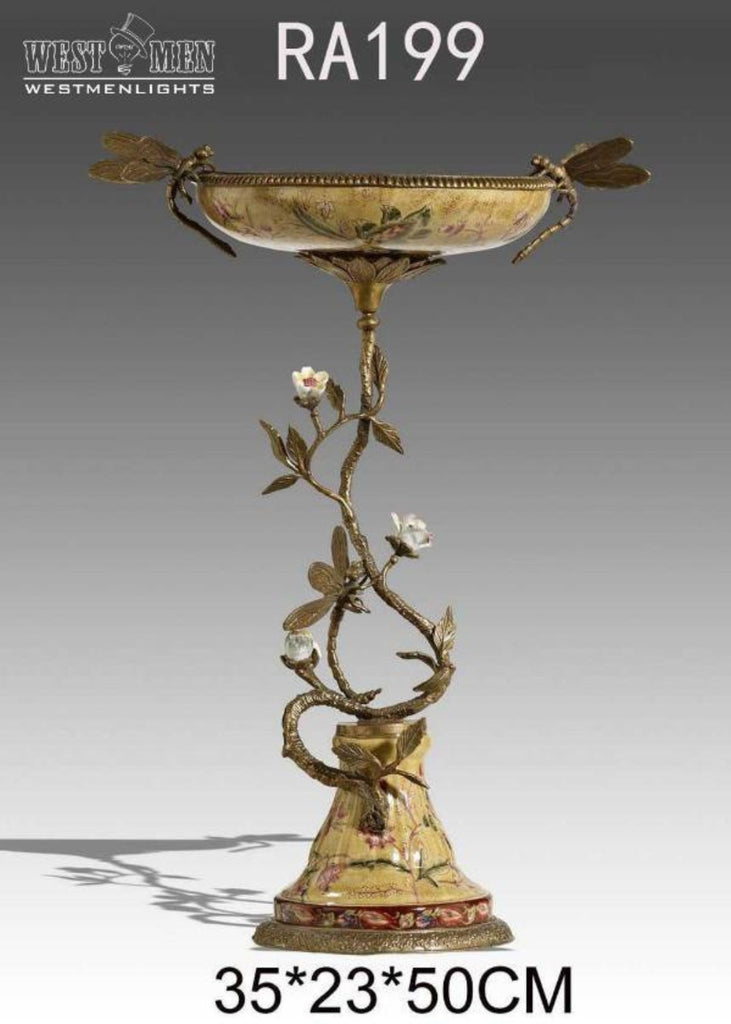 Gilt Bronze Compote Fruit Bowl Pedestal Dish
Gilt Bronze Compotier Fruit Bowl Centerpiece Features:
Our Handmade Chinese Porcelain Wares combines the finest quality porcelain & hand painting by skilled artisans to recreate the most exquisite variety of Styles and Patterns and A valued modern objet d'art handed down from generation to generation as Heirloom to
Pedestal Centerpiece Dish Specification:
Dimensions:9.05 inches depth,13.77 inches width,19.68 inches height
Style: Objet d'Art,Compotier Dish,Porcelain Bowl, Fruit Bowl,Heirloom Quality Statement Bowl Centerpiece
Handcraft:Handmade, Painted and finished
              Gilded brass ormolu mounts [Polished brass is naturally a fine muted Gold color prior to applying a Patina]
Pattern:Floral
Application:appropriately sized Tabletop, Fireplace Mantel or Shelf singularly or in groups. Be mindful of Your Mantelpiece depth when Selecting and Positioning your Centerpiece for Display
Shipping:ship Domestic or International 

Gilded Gilt Bronze Mounts

Many of our styles employ gilt brass ormolu. Ormolu was first produced in France in mid-17th Century. During the reign of The Sun King, Louis XIV, gilt bronze ormolu mounts were used in abundance. Opulence was the order of the day and porcelain wares were en vogue.

Gilt Brass Ormolu, Gilt Bronze Ormolu or "Dore´ Bronze" as is commonly referred to, is used today in the same manner - as fashionable decorative embellishments - the mark of fine quality craftsmanship. These embellishments were traditionally reserved for only the costliest Chinese & European wares and the finest European furnishings.



---
---
We Also Recommend